Management Board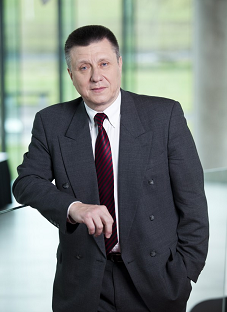 Andrzej Kalinowski - President of the Management Board
President of the Management Board of IRGiT, and former Manager of the Clearing and Settlement Department of IRGiT. A graduate of the Central School of Planning and Statistics (at present – Warsaw School of Economics).
He started his professional career in 1990, as a clerk of the Capital Market Development Department of the Ministry of Ownership Transformation. He was professionally connected with – among others – the National Bank of Poland (2003-2005), the Polish Bank Association (1995) and the Warsaw Stock Exchange (1991-1994), where he contributed to the clearing and settlement system. Since 2005 he has been connected with the Polish Power Exchange Capital Group. He took part in bringing IRGiT to life. He lectures to candidates applying to become stock exchange brokers, merchandise brokers and securities records specialists; he also lectures on the functioning of the securities and derivatives markets.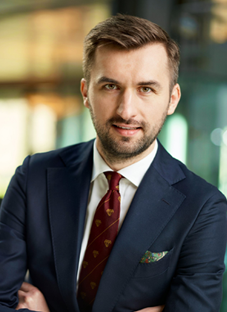 Łukasz Goliszewski - Vice-President of the Management Board
Łukasz Goliszewski has been associated with IRGiT since 2010. From 2010 to 2015 he served in expert positions, while starting in 2015 he was Deputy Director of a Department, and since 2017 he has been the Director of the Risk Management Department where he was responsible for market, credit and operating risk as well as for collateral, investment policy and transaction reporting. In addition, since 2018 he has acted in the capacity of the Director for International Cooperation. During this period, he chaired the Risk Committee in IRGiT, he was a member of the examination committee for candidates to become commodity brokers on the TGE and IRGiT's representative in the Risk Committee and the Policy Committee of the European Association of CCP Clearing Houses (EACH).
On 4 April 2019, he was appointed by the IRGiT Supervisory Board to the position of Vice-President of the IRGiT Management Board. In the IRGiT Management Board, he is responsible, among other areas, for the supervision of risk management, finance, development and member services, and legal. Since May 2020, he is appointed as a Treasurer of the European Association of CCP Clearing Houses (EACH).
Łukasz Goliszewski is a graduate of the Faculty of Economic Science and the Faculty of Mathematics, Computer Science and Mechanics at the University of Warsaw. He completed a post-graduate course of study in risk management in financial institutions at the Warsaw School of Economics. He is a licensed commodities broker.
Supervisory Board
Adam Młodkowski – Chairman of the Supervisory Board
Jarosław Obrzud - Secretary of the Supervisory Board
Dariusz Dudek – Member of the Supervisory Board
Beata Kalinowska – Member of the Supervisory Board
Piotr Krygiel – Member of the Supervisory Board
Sebastian Wijas – Member of the Supervisory Board